Aim2D: real time, 24/7 #ChinaBusinessMarketing, Tech and Social Media News Portal of The Bicaverse based in sunny Shunyi, North east Beijing. Tuesdays we look at business, marketing, tech or social news in and around China. Friday is image gallery where we examine a place, topic or subject giving you greater insight, background to life in China, and of course, your Chinese consumer. If hard, practical, realistic China consumer marketing support is what you need, do drop into our sister site: Unegager. Finally, in a sign of the times, we can assure you that our content is 100% loving created and hand crafted by a fellow human. No AI chatter bots here.
Last week we briefly talked about tea in China, the popularity, different types and had a quick look at the various tea plantations in China.
If you missed it, we recap it here:
We have, in various other posts also talked about the changes in China, from environmental concerns to a sharpening of awareness of health and fitness. Both of which have seen a rush of interest, and subsequently, business opportunities.
So, how does this all tie in with tea in China?
A rather good question, bear with us as we make this tenuous link a little more obvious. We hope.
It's more of a subtle interpretation of the heading and an understanding of tea today, the way the world knows it.
Pretty much like the UK, tea is, in China, more of an institution.
A tradition. Not just a drink. For example, the China tea ceremony puts anything in the Palace to shame!
The tea bush is native to China. Tea drinking was created in China (by accident if legends are true) and the tea process invented in China.
It was a booming business over which China held the monopoly.
Yet this desire of foreign powers to control, limit and destroy China ascendancy is well dated. At least, around 300 years old when, in the mid 1800s, a Scottish botanist, at the behest of England infiltrated the China tea industry, stealing cuttings which were then raised in the Great British Land of India. China's hitherto thriving global industry was decimated.
Or, How England Stole the World's Favorite Drink and Changed History: by Sarah Rose. [Free PDF read / download]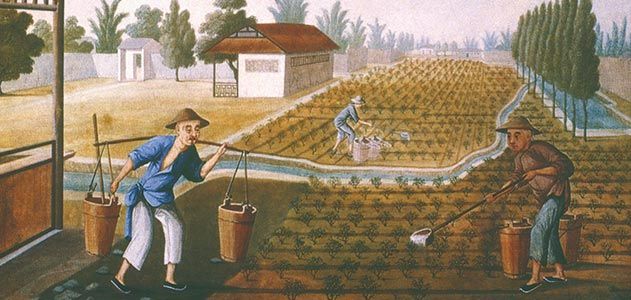 This was not a one off.
That little, egg shaped, fury, brown, green fleshed fruit you so enjoy – and pay a King's ransom for – also originated from cuttings stolen from China. So, in short, foreign enterprises have been taking Chinese products and culture, turning it against them, then selling it back to them for centuries. Something we ought bear in mind before we accuse China of stealing OUR IP!
This same technique has also been used by many foreign brands for decades. Most noticeably, fashion and luxury.
Every Chinese New Year, AKA Spring Festival, many of the worlds top fashion / cosmetic houses launch a product unashamedly featuring Chinese artwork, culture or themes.
So: Winds of Change in China
Or, as Zac from Jing Daily more delicately put it:
How Luxury Brands Are Reviving Chinese Artisan Traditions For Contemporary Tastes.
Homegrown brands have in recent years started to redefine what luxury looks like, spurred on by a younger generation eager to rediscover its history amid growing confidence in the Chinese identity.

From furniture to fashion to jewelry, nascent domestic luxury brands are helping to revive ancient Chinese craftsmanship by investing in artisans and long-forgotten techniques, and launching products aimed at contemporary audiences. In the process, they are elbowing their way onto the global luxury space with their markedly Chinese aesthetic.
Perhaps for some of you, reading this might bring back memories of the circa 1980's when Japanese interior design was "all the rage." Suddenly, everyone was redecorating with rice paper lamps and shoji. Futons became the goto, go to bed lifestyle. Ironically, most of these designs were originally inspired by traditional Chinese culture.
So the moral, or cautionary tale, for international brands might be, that before you – with good intentions we assume, not driven by lust for profit- decide to model your next campaign around a Chinese festival or culture, stop and take a breath. There is a possibility and growing, that your Chinese audience may not see it as benevolently as you. Set against the current background of overt aggression against China, you may find it has the opposite effect to that which you hoped. This piece, again from Jing, might explain further:
Cultural Appreciation V/S Cultural Appropriation.
Finally, yes, again, we knowledge Ranny, our in house artist, for the header image today.