Aim2D: real time, 24/7 #ChinaBusinessMarketing, Tech and Social Media News Portal of The Bicaverse based in sunny Shunyi, North east Beijing. Tuesdays we look at business, marketing, tech or social news in and around China. Friday is image gallery where we examine a place, topic or subject giving you greater insight, background to life in China, and of course, your Chinese consumer. If hard, practical, realistic China consumer marketing support is what you need, do drop into our sister site: Unegager. Finally, in a sign of the times, we can assure you that our content is 100% loving created and hand crafted by a fellow human. No AI chatter bots here.
Yesterday was May first, middle of China's first 5 day May or Labour Day holiday in China since 2019. Early figures seem to indicate it may also be the busiest (and most lucrative for the travel / tourism industry) since 2018. We hope to have definite stats – and some pictures for this Friday's image gallery.
Mean time, as it's something of a no nothing day here today we will take a look at a Chinese stereotype, from a China business perspective.
Everyone knows Chinese do not have a sweet tooth, yes?
Those sweet fizzy cola type drinks in the west do not do well here. Chinese love their green tea more. Likewise sweets, chocolates, cakes, and biscuits are not terribly popular. Go to any Chinese restaurant and as dessert they serve fruit; tomatoes, apples, rock and watermelon.
AND YOU'D BE DEAD WRONG.
Take a wander around any supermarket in China and you will likely find the confectionery aisle (or aisles) is second only to shampoo and conditioner. Chocolate is big business in China, just ask Cadbury, Dove, Lintd, Godiver, Ferrero Rocher, any chocloate maker.
Enjoy ice cream at -20c degrees?
TheBic arrived in China, North China in the winter of 2001.
Strolling outside necessitated several layers of padded thermal clothing, hat and gloves. Every spoken word accompanies huge steams of vapour on the cold air. Your host suggests ice cream?
She's kidding right – winding you up?
Nope.
At one of several ice cream parlours, compete with swing seats and imitation vines and flowers, with background music from the likes of Jim Reeves, Pat Boone, Cliff Richard (read romantic) people are busy tucking into their favourite flavour – served in the traditional frosted glass goblets of yore. Aa time warp back to the European '50's. Happy Days Fonze would not be out of place here. Except the age range is more varied.
That was 2001, this is 2023, China has modernised and is now a tech driven, digital device society.
But ice cream still holds sway.

This article form China Daily looks at the current state of ice cream and marketing in China today. They even now have ice cream expos or trade fairs.
Global, local players vie for ice cream market.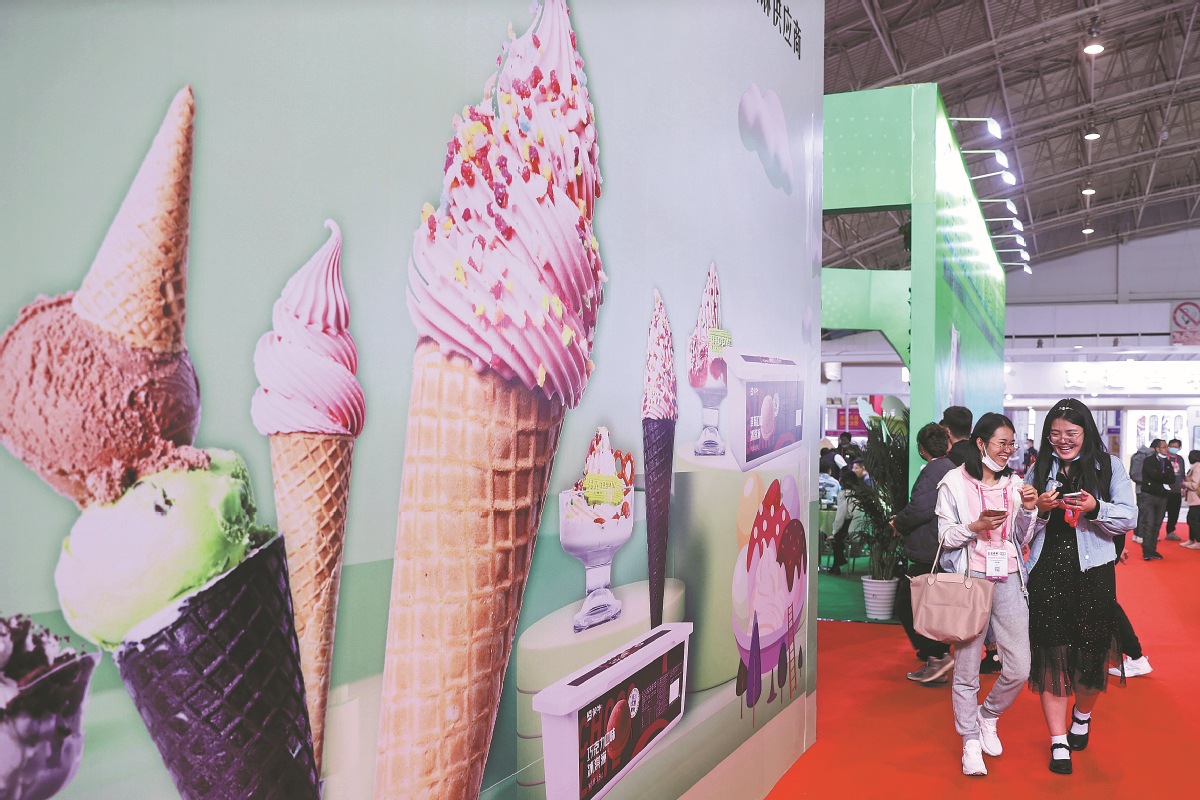 The following article is abridged from China Daily
This year, ChatGPT- and tech have become the hottest buzzwords in ice cream marketing circles with AI-related ice cream products, priced at 3.5 yuan ($0.5).
A hi-end egg-shaped ice cream with more milk and eggs will set you back between 15 yuan and 20 yuan.
Another high-end brand under the Yili Group, has collaborated with the popular science-fiction novel The Three-Body Problem, aiming at the book's sci-fi fan group.
"The ice cream sector is going to see explosive growth, creating even more fierce competition in a diversified market,"

Zhu Danpeng, a food and drink analyst in Guangzhou, Guangdong province."
Meanwhile, Mars China has invested about 500 million yuan in building its first local ice cream factory in Guangzhou.
New brand Hema has also jointly launched ice cream products with coffee house Tim Hortons and plant-based drink brand Oatly.
Dairy-based ice cream is still the most popular category, accounting for 95 percent of new product launches in China in 2021. Offline ice-cream sales surpassed online in 2022.
Although taste is the most important factor when choosing ice cream, it's also important to tap into the healthy evolution trend.
Ok, that's the skinny in noted format. For the down and dirty, stats, figures and details of ice cream sales in China, please read China Daily's full article.
Is China's Economy on a Bumpy Road?

Would a Glove by any other name…..
May weather in Beijing

The Importance of Face in China