Aim2D: real time, 24/7 #ChinaBusinessMarketing, Tech and Social Media News Portal of The Bicaverse based in sunny Shunyi, North east Beijing. Tuesdays we look at business, marketing, tech or social news in and around China. Friday is image gallery where we examine a place, topic or subject giving you greater insight, background to life in China, and of course, your Chinese consumer. If hard, practical, realistic China consumer marketing support is what you need, do drop into our sister site: Unegager. Finally, in a sign of the times, we can assure you that our content is 100% loving created and hand crafted by a fellow human. No AI chatter bots here.
Last Friday, Spring Festival 2023 ended, millions of Chinese began the long road home to be back at work Saturday. We take a quick look in pictures.
Of course, not everyone was back. China restructured its leave policy several years ago. Where once, the entire country pretty much all took the same National holidays at the same time, the law was amended to allow people to manage their own leave. So today there is more flexibility as to when to take leave and for how many days. Many Chinese, especially white collar workers, did not come back till Monday.
There will be many who will tack a few extra days onto their Spring Festival holiday. especially those who have "Flown South" to the, relatively, warmer Asian neighbour states. But for most Chinese we know, the optimum time to extend their break is summer.
If you are keen to know more about China's holidays you will find China Highlights useful. There you will find not only a calendar of holidays and events but also a wealth of information detailing not just the holidays, but what is open and what is closed.
We have copied an excerpt below:
| 2023 Date | Holiday Name | Holiday | Remarks |
| --- | --- | --- | --- |
| Jan. 1 | New Year's Day | Dec. 31 – Jan. 2 | |
| Jan. 22 | Spring Festival | Jan. 21 – 27 | Chinese New Year, China's biggest festival |
| Apr. 5 | Qingming Festival | Apr. 5 | Tomb Sweeping Day |
| May 1 | Labor Day | Apr. 29 – May 3 | A 'golden week' for tourism |
| Jun. 22 | Dragon Boat Festival | Jun. 22–24 | People eat sticky rice dumplings and attend dragon boat races. |
| Sep. 29 | Mid-Autumn Festival | Sep. 29–Oct. 1 | Mooncake Festival |
| Oct. 1 | National Day | Sep. 30–Oct. 6 | Another 'golden week' for tourism |
China Braces for Post-Holiday Travel Rush
Passengers wait to board their trains Friday in Hangzhou East Railway Station in the eastern province of Zhejiang. Photo: VCG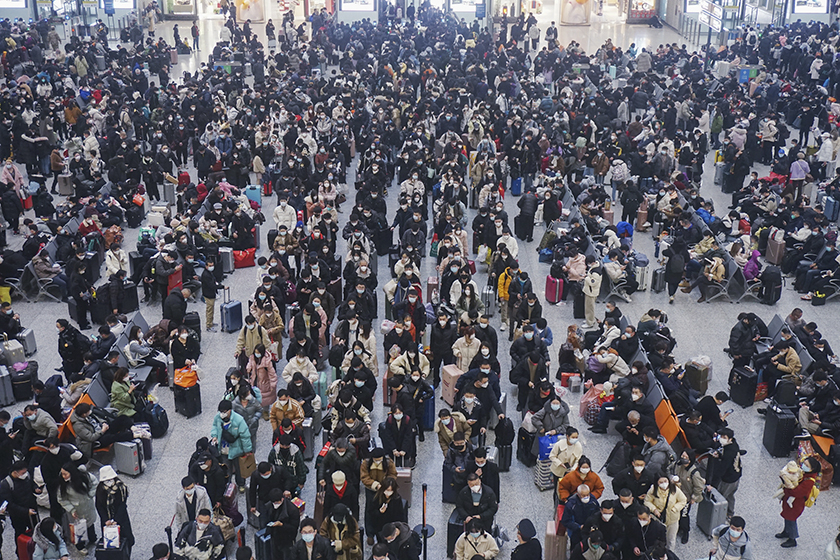 Transport hubs across the country are preparing for the multitudes of travellers returning home following the week-long Lunar New Year holiday, which ends Friday. Railway stations and airports are expected to be inundated with people, with Thursday already seeing more than 43 million passengers on trains, planes and ships — an increase of 86% from the same period last year.
China's Rush to get Home
Click anywhere in the image below to view today's gallery.
Meanwhile, China Daily brings us a a gallery shoot at different locations during China's busiest Spring Festival since 2018.
Again, please press anywhere in the image to view more.
People visit the Jianchang ancient city in Xichang city, Sichuan province, Jan 27, 2023. [Photo/Xinhua]