WPBeijing was a marketing studio founded by Peter Bic and Everlyne Yu in Beijing, October 2003. In 2017 it became known as Bicyu NZ Co Ltd. Aim2D is an umbrella media arm of Bicyu. This article is part of a Weekend Series where we dare to share some of our experiences and insights. So, make yourself a pot of Oolong tea, grab a chocolate bar and settle down for a longer read.
Fake Food- of a different kind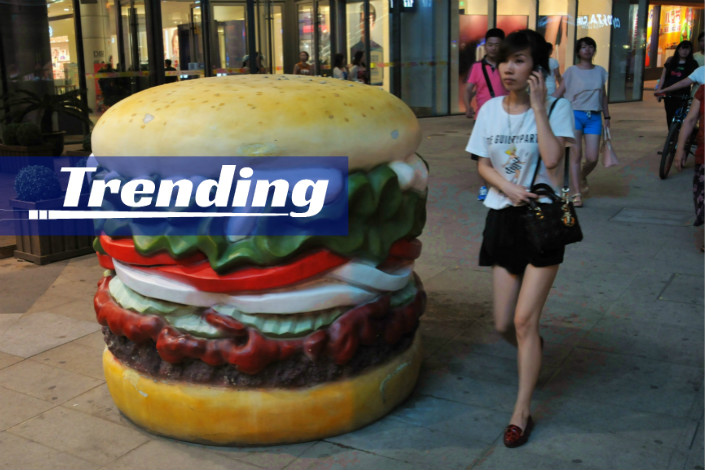 We have made quite a few posts over the past six or eight months regarding food. Mostly around the subject of faux or fake meat. Today, we look at fake food from another angle. But first- perhaps you need a little bit of background.
China State Broadcaster CCTV has an annual "Consumer Rights" show where it sends undercover reporters with hidden cameras and mics into various businesses. Often these unsuspecting companies have been the subject of China social media gossip or criticism in the not too distant past. Although not entirely, more often than not, the target is foreign owned or JV [join venture] businesses.
Chinese always have loved nothing better than a good expose of the dirty tricks and ways foreign firms rips of the poor, unsuspecting, trusting Chinese consumer. In today's hyped up age of national pride this is a sure fire box office hit. Victims in the past have included Apple and Landrover. It usually culminates in a series of groveling social media posts from off shore brand CEO's and heartfelt apologies to Chinese consumers. Then, a little bit like Chinese New Year, it is all over, honour has been restored, justice served.
So today we are looking at the dirty rotten tricks of the US takeaway food Giant- Burger King no less. In particular, those in the Jiangsu province. When the footage went to air, it showed not only yesterday's buns – of the bread type- being warmed over and re-served, [always thought a few of mine tasted a bit" cardboardy "to be honest] but also a deliberate regime of skimping or even omitting ingredients. Cost cutting measures.
As one who has, years gone past, worked in the FF industry we know that warming cabinets [they store the pre made buns in anticipation of a rush] have timers, which flash red when food stored therein is past its sell by time. However, Chinese viewers were treated to staff simply resetting them back to green. Now this probably happens the world over more times than we like to think about, not just in FF either. In truth maybe it doesn't effect the food quality, or health standards, but I say, it just isn't cricket – is it.
This link will take you to the official story Weibo page complete with incriminating video footage- text and audio in Chinese only – but Google etal do fair job of comment translation. Or, if you prefer to read the English version, this extension on Caixin is convenient.
You may need to become a member- it's free- just need an email, or for full access, whip out your credit card~ That way you will be well informed of business in China pretty much as it happens, 24/7.
Thanks for reading our China news, marketing, tech and social media article – we hope it was useful, relative, informative, valuable.
Yes?
We would be honoured if you subscribed to our content.
No?
Not Useful?
Then perhaps you may like to chat directly and personally with Everlyne?
But please, be aware of local (China) time when calling from overseas. Despite rumours to the contrary, Everlyne is human, not a bot, she does eat, drink and sleep – sometimes.

Whatever your question re Chinese Business, Marketing Tech or Social Media, she will know the answer, or know someone who does! A brief intro below;
Introducing Everlyne YU
In 2003 Everlyne Yu co-founded WPBeijing Marketing Studio with Englishman Peter Bic, now known as Bic Brands.
She began Uengager, as a SaaS MarTech company focused on customer engagement in 2017.
Hello, Nihao, I'm Everlyne
"I love to talk about and help people understand the amazing ways MarTech and SaaS can work to strengthen your business engagement with Chinese consumers.
I know you have questions or want to talk about your brand or business in China so please, drop me a line opposite. If you prefer live chat, call and talk to me live, in person direct."
Everlyne is also a key note speaker, lecturer and KOL on MarTech in China. She is CEO of Uengager, business development officer for Bicyu.
Everlyne hs been privileged to work with a variety of international organisations, from VW, Cushman Wakefield, Sodexo, Bristol Myers Squibb to local Chinese firms such as Midea, and OK Order.
If you're looking for guidance, tips, advice on any aspect of starting or growing a business in China or training, coaching your existing China marketing team for excellence, be sure to check out Uengager. Home page and base for Everlyne Yu. Read her short bio – opposite left – or contact her direct – below – for a free, heart to heart chat.
CONTACT EVERLYNE
Note: App is in Chinese and needs WeChat account to access.
OR: